Dying Light The Following Has A $10 Million Edition
Yes, you read that right. Game.co.uk are selling a one of a kind "Spotlight Edition" of Dying Light The Following for 10 Million Dollars. This is an outrageous amount of money despite the contents of this one of a kind release. It is without a doubt the most ridiculous special edition I have ever heard of. It outdoes the Saint's Row 4 Super Dangerous Wad Wad Edition by quite a margin.
The main draw of this edition seems to be the role in Dying Light: The Movie. Personally, I wasn't aware a movie was even in development. From the looks of things this edition may be used a a financing tool for the movie itself. What happens though, if the movie doesn't get made? Would you get your money back? There are too many questions raised by this for anyone to realistically consider purchasing it.
If anyone is crazy enough to purchase this version, here's what they'll get:
Supporting Role in Dying Light: The Movie
Become an integral part of Dying Light's move to the silver screen! Participate in action scenes and deliver lines with an international cast of actors.
Screening Tour
VIP passes, first-class flights and five-star accommodation for every film festival and special screening featuring Dying Light: The Movie.
Professional Acting Lessons with Roger Craig Smith
The voice of Dying Light's Kyle Crane and one of the most talented and prolific video game voice actor will make sure your delivery creates a powerful and lasting impression.
Personal Trailer on Set
Enjoy the luxury you deserve. Custom-made, personal trailer to make your time on set as comfortable as humanly possible. Luxury amenities, 3-star chef catering and 24/7 service included.
10 VIP Tickets for Opening Night
Original Copy of the Script
A lasting memento, signed by the cast.
Stuntman/Parkour Training
Show everyone your best during action sequences thanks to a professional and extensive course OR leave the taste of danger to a personal stunt double.
Off-road Driving Course
Join the high-octane action of Dying Light: The Movie driving sequences. And you get to keep your favorite car from training!
FX Make-up Session
Become the sensation of any party by turning into a gruesome zombie thanks to the help of a professional make-up artist.
Become the Voice of Kyle Crane
Relive the outbreak in Harran in a much more personal manner! Kyle Crane will now speak with your voice in a personalized version of Dying Light which you can share with your friends!
4 Copies of Dying Light: The Following – Enhanced Edition
Signed by the dev team, for the platform system of your choice.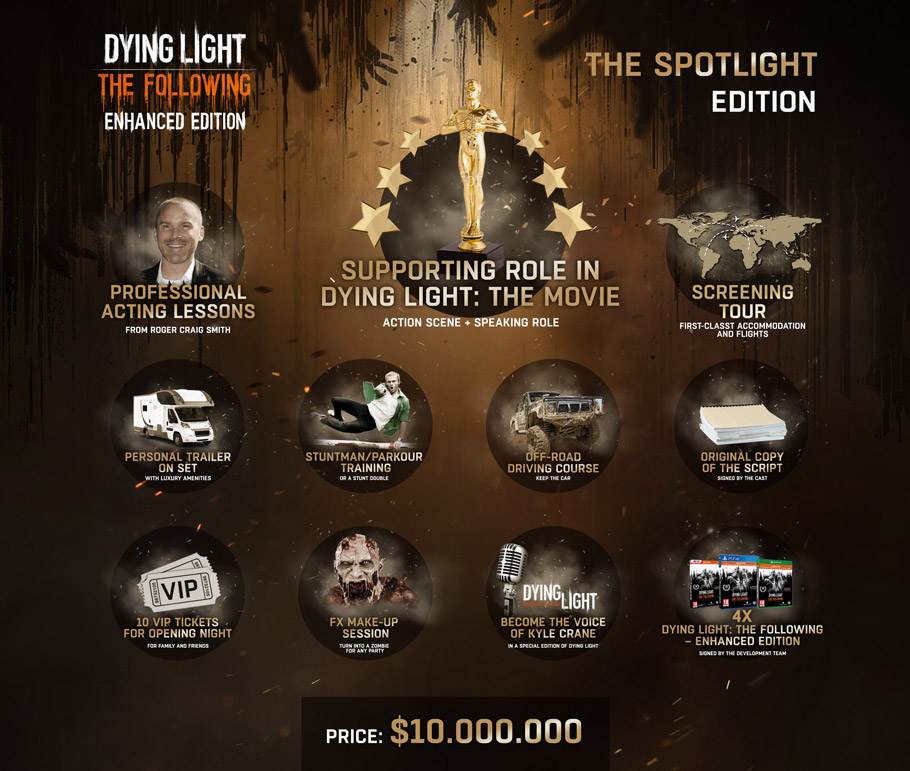 Latest posts by Andrew Brennan
(see all)