Uncharted 4 Dated & Collector's Edition Announced
Sony have just announced the release date of Uncharted 4 on the PlayStation Blog. The game will be launching on March 18th 2016. Alongside this, Sony have announced the availability of two Collector's Editions of the game.  The two editions will be the Uncharted 4: A Thief's End Special Edition and Uncharted 4: A Thief's End Liberatalia Collector's Edition.
In the Uncharted 4: A Thief's End Special Edition you will recieve:
A copy of Uncharted 4.
A steelbook case featuring custom artwork by Alexander Iaccarino.
A 48 page harcover artbook by Naughty Dog and Dark Horse.
Naughty Dog & Pirate Sigil Sticker Sheet.
Naughty Dog Points (These points are used online to unlock new multiplayer content and upgrades).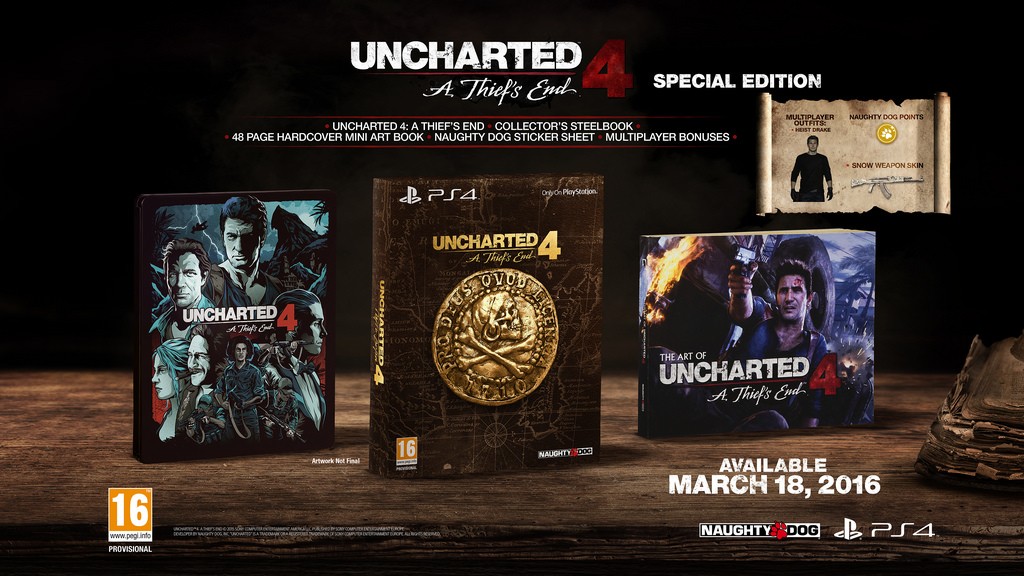 The more elaborate edition, the Libertalia Collector's Edition will include all of the above content alongside:
 A 12″ Nathan Drake stature by Gentle Giant.
Three additional multiplayer outfits, one from each of the previous three games.
Three custom weapon skins.
Three sigiled baseball caps for multiplayer.
Madagascar Sidekick Outfits.
Phurba Dagger taunt.
A Uncharted 4 dynamic theme for PlayStation 4.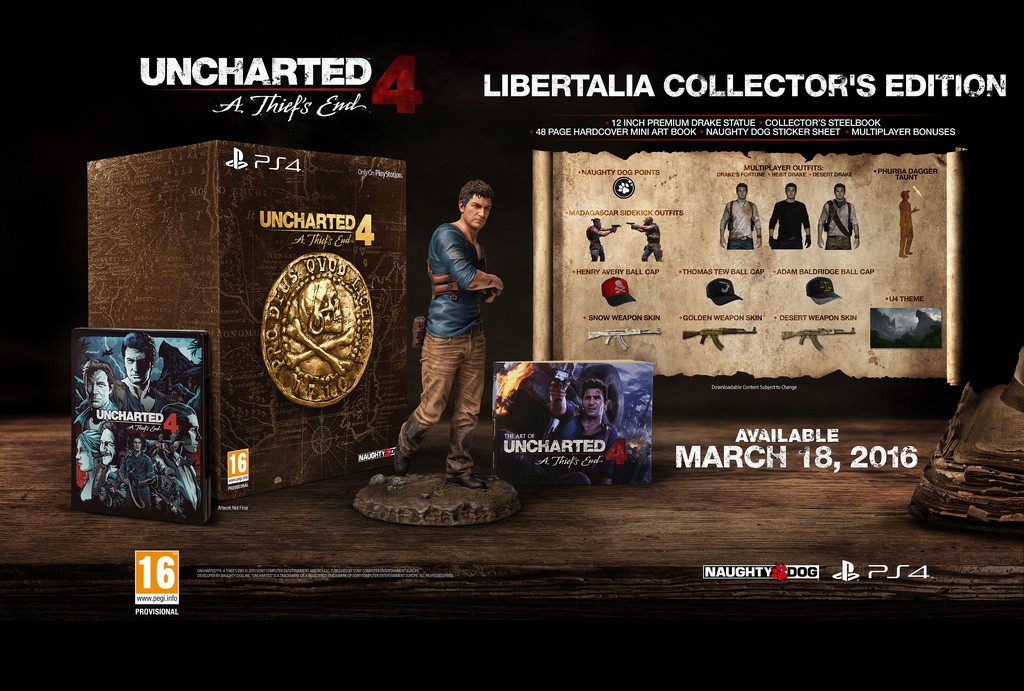 The digital edition of the title will also includes a few selection from both collector's edition if you pre-order on the PSN.  It comes with two multiplayer outfits, two custom weapon skins, the Phurba Dagger taunt and Naughty Dog points.  There is also a digital deluxe edition that includes everything in the standard edition plus:
Desert Drake Multiplayer Outfit.
Desert Weapon Skin.
Thomas Tew and Adam Baldridge Sigil Baseball caps.
Uncharted 4 Triple Pack: This includes future access to the first-ever single-player story add-on for the Uncharted series and two multiplayer packs that will unlock new, rare and legendary multiplayer items.
Instant unlock of two multiplayer customization items.
The triple pack DLC will also be available separately as an add-on to the main game. It's great to finally have a launch date set in stone for Uncharted 4. Personally, I'm glad that the delay wasn't too severe, many had expected the game to slip into the same summer release window as The Last of Us on PlayStation 3. While Sony may have a weak first party lineup going into this holiday season, the first half of 2016 is sure to kick off an amazing year of exclusive titles.

Latest posts by Andrew Brennan
(see all)