Deus Ex: Mankind Divided Release Date Comes With A Catch
Square Enix have detailed their upcoming pre-order incentive for Deus Ex: Mankind Divided. It's an interesting way to incentivise pre-orders as it essentially holds the game's release hostage. This practice has been done with Steam titles in the past, but has never been done on a retail release.
The incentive requires fans to pre-order the game and then enter a code on this site www.augmentyourpreorder.com. There are several pre-order tiers and when the criteria is met you get to select an item from that tier. You can see the options in the image below. The final tier allowing the game to release four days early.
Personally, I believe that this is a terrible business practice. An early release is not something you should lock behind ridiculous stipulations. If the game is ready for release, then they should release the game. This kind of thing could set a dangerous precedent going forward. Four days isn't that long, but what if companies had bigger pre-order incentives for release. A week early? A month early? Who knows where publishers could run with this. Pre-order culture is already bad enough as is. It hardly feels like you're getting the full edition of the game anymore. With so many pre-order incentives available at different retailers the choice of where to purchase becomes difficult. I can only hope this incentive doesn't succeed so no other publishers try this in the future.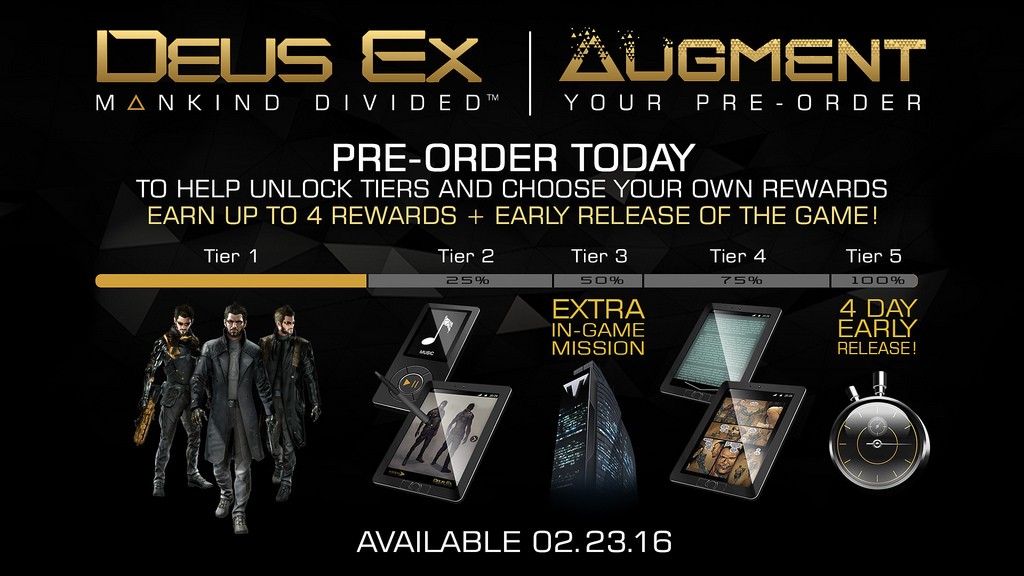 Square Enix also revealed the Collector's Edition of the title. The contents of which are as follows:
A Limited Edition Steelbook.
A 9″ Adam Jensen Figurine.
A 48 page Titan Artbook.
Three covert agent DLC packs.
An extra in-game mission.
A sampler of the soundtrack.
A digital artbook, comic and novella.
This also includes the rewards from the "Augment Your Pre-Order" bonuses.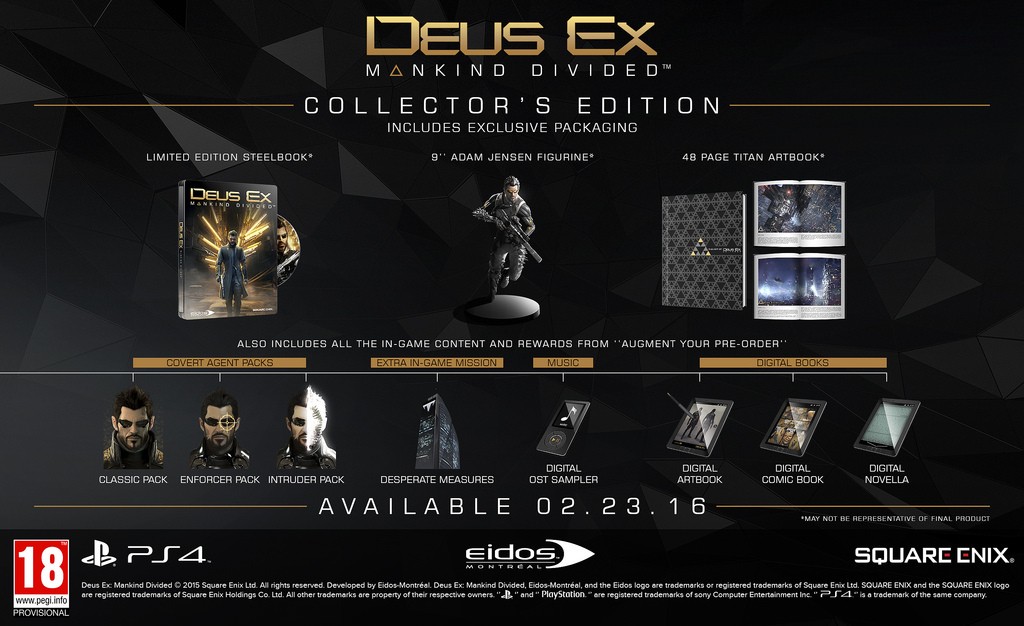 Deus Ex: Mankind Divided will release on Xbox One, PlayStation 4 and PC February 23rd of next year. That is unless the "Augment Your Pre-Order" incentive reaches 100%. The game will then release four days early on February 19th.

Latest posts by Andrew Brennan
(see all)